In today's hyper-connected world, our reliance on digital devices is ever-increasing. From smartphones, tablets, laptops and social media, we are constantly bombarded with notifications, updates, and distractions. However, there comes a point when we need to step back, take a breath, and revaluate our relationship with technology.
Digital detox is a practice that allows us to disconnect, recharge, and regain control over our lives. Let's explore the reasons why a digital detox is essential and provide practical tips on how to embark on this transformative journey.
The Downside of Digital Dependency
While technology has undoubtedly brought numerous benefits to our lives, it's important to recognise the negative impacts of excessive digital consumption. Here are a few reasons why a digital detox is crucial:
Mental well-being: Constant exposure to screens and online content can lead to information overload, anxiety, and decreased focus. Disconnecting helps to alleviate these pressures and promotes mental clarity.
Enhanced relationships: Excessive screen time can strain personal relationships as it diminishes the quality of face-to-face interactions. Engaging in a digital detox allows us to reconnect with loved ones.
Improved productivity: Distractions from social media, email notifications, and instant messaging can hinder our ability to concentrate and accomplish tasks efficiently. Taking a break from digital distractions boosts productivity and creativity.
How to Start Your Digital Detox
Embarking on a digital detox requires planning and commitment. Here are some practical steps to get started:
Set clear goals: Define your objectives for the digital detox. Is it to reduce screen time, prioritize personal relationships, or improve mental well-being? Having clear goals will help you stay motivated throughout the process.
Establish boundaries: Create specific rules and boundaries for your digital detox. Decide on designated tech-free times, such as during meals or before bed, and stick to them consistently.
Inform others: Let your family, friends, and colleagues know about your digital detox plans. Their support and understanding will make it easier for you to disconnect without feeling the pressure to respond immediately.
Create alternative activities: Fill the void left by digital devices with engaging offline activities. Rediscover hobbies, read books, spend time in nature, practice mindfulness, or pursue physical exercise. Cultivate a healthy balance between online and offline experiences.
Digital decluttering: Take the opportunity to declutter your digital life. Unsubscribe from unnecessary email subscriptions, organise your files and apps, and change your social media feeds to eliminate sources of negativity and distraction.
Use technology mindfully: After the detox, be mindful of how you reintegrate technology into your life. Set healthy boundaries, practice regular digital breaks, and limit usage by utilising screen time tracking apps or browser extensions.
The Benefits of a Digital Detox
By embracing a digital detox, you can experience a range of benefits:
Mental clarity: Disconnecting from the digital world allows your mind to rest, rejuvenate, and regain focus, leading to improved mental clarity and reduced stress levels.
Increased productivity: By reducing digital distractions, you can reclaim precious time and direct your energy towards pursuing your goals, boosting productivity, and accomplishing tasks more efficiently.
Increased productive leisure time: Constant engagement with digital devices can often lead to unproductive leisure time. A digital detox provides an opportunity to rediscover meaningful and fulfilling activities that contribute to personal growth. Instead of spending hours on social media or watching videos, you can engage in hobbies, learn new skills, pursue creative projects, or explore the outdoors. This shift towards productive leisure can bring a sense of fulfilment and accomplishment.
Improved Sleep Quality: The blue light emitted by screens can disrupt our natural sleep patterns. By disconnecting from digital devices, especially before bedtime, you can promote better sleep hygiene. Quality sleep is crucial for physical and mental well-being, and a digital detox can help you establish a healthier sleep routine.
In a world dominated by screens and constant digital stimulation, the practice of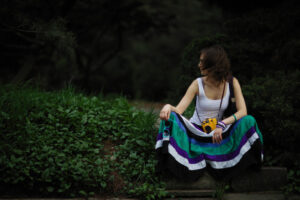 a digital detox has become more important than ever. Embracing a life that strikes a balance between the digital and physical realms allows us to fully engage with the world around us, find inspiration in offline experiences, and live more intentionally.