Whether you're a complete beginner or want to expand your skill set, there are lots of free courses and advice and guidance available to help you. 
Learn My Way
Free online courses for beginners, helping you develop digital skills to make the most of the Internet.  Created by the Good Things Foundation, there are over 30 free courses on Learn My Way, ranging from using a keyboard to staying safe online to support with how to claim Universal Credit or job hunt online.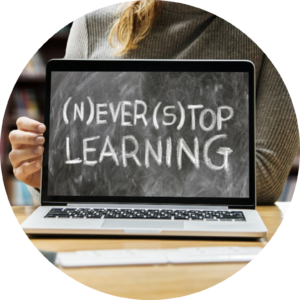 Visit the Learn My Way website
Digital Skills courses
Durham County Council offer a range of short, fun, and interactive learning sessions that will support you to improve your employability, communication skills and confidence. Whether you're an absolute beginner or already have skills and qualifications you want to build on, the Durham Learn team can offer a course to fit with your current skills.  
The sessions classes start with face-to-face learning, but there are options to learn online as part of your course if, and when, you are ready. 
See Durham County Council Digital Skills courses
Digital Skills Helpline
Vodafone and we are digital run a free digital skills helpline for anyone who needs dedicated support to get online. Call 0800 987 4110 or visit we are digital to find out more.