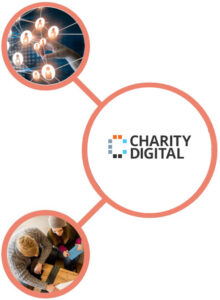 While a lot of charities have increased their digital communications in response to the pandemic, the threat of getting left behind is very real for many organisations in the third sector. The switch to digital can sometimes feel like an uphill battle, but with the digital landscape changing, moving with the (digital) times has never been more important.
What is 'going digital'?
Moving services online – designing and adapting services so that they can be delivered digitally whilst still meeting the needs of users.
Resources – ensuring both hardware (computers, laptops, tablets) and software (Wi-Fi, computer systems) are up to date and fit for purpose.
Online safety and security – making sure staff and users know how to stay safe online and confirming systems are secure to avoid cybercrime.
Digital inclusion – encouraging people to engage with online services and supporting those who struggle to access and use digital tools.
Charity Digital
Charity Digital was established in 2001 to help other charities accelerate their missions using digital technology. Their discounted and donated technology platform, Charity Digital Exchange, connects non-profits with trusted and recommended software including their own bespoke charity email service.
The website is packed full of information on everything from digital fundraising to cyber security and hosts a range of resources including articles, podcasts and videos, as well as a variety of events and courses.