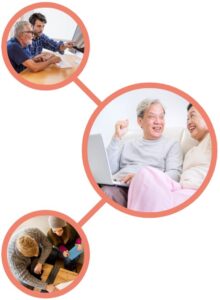 Just like car insurance, the best way to make sure you're always getting the best deal for broadband, is to compare different providers when your contract runs out. Yet millions of people are out of contract and not searching for the top deals on broadband, phone and TV – are you one of them?
Before you get started, remember that full fibre is considered to offer the most reliable broadband service. It's sometimes referred to as Fibre to the Premise (FTTP) or Fibre to the Home (FTTH).
Step 1: Check with your current provider to see if you are in a contract.  If you're out of contract that's great, you can now check to see if you can get a better deal on your broadband package. If not, make a note of when your contract ends so you can be prepared when the time comes.
Step 2: Use a price comparison site to find the best deal for you.
If you're not sure which comparison site to use make sure to check out these comparison sites accredited by Ofcom.
If you're looking for advice, check out Money Saving Expert's advice on how to find cheap broadband. They also offer the MSE broadband unbundled tool which allows you to search for a tailored broadband, phone and /or TV package to your needs.
Step 3: If you find a better deal it might be worth checking to see if your current provider will match it, that way you've saved money without having to change a thing.
If they won't or you'd prefer to change provider, then go for it – it's never been simpler to switch.