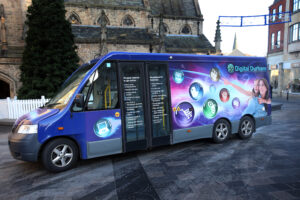 Durham County Council's Digital Durham programme launched in 2013 to fill the gaps where broadband suppliers were not inclined to invest in upgrading broadband infrastructure, leaving some communities across the county with slow speeds.
Working in partnership with Government department Building Digital UK (BDUK), appointed supplier Openreach, and nine other local authorities, Digital Durham have led on thee broadband infrastructure contracts to transform speeds across the North East region.
It has resulted in the delivery of superfast broadband coverage to 64,000 properties in County Durham and 114,000 in total across the North East.
At the start of the programme, superfast coverage in County Durham was 65% – it now stands at 97%, in line with the UK average – and this significant increase is largely down to the interventions of the programme.