Peter from Kirk Merrington was struggling to work from home effectively and enjoy all the entertainment technology brings to home life with his wife and two young kids. Frustrated, he started to investigate alternative broadband solutions.
How do you use broadband in your home life and for work?
We're a family of four with two toddlers and I'd say we use broadband pretty typically – streaming Netflix, Disney and using Alexa. My wife and I have also been doing university studies and being online is essential to the assignments and exams. Me and my wife also work from home.
What impact to your home and work life was slow broadband having?
The biggest impact was to our work. It was difficult to access the systems I needed for work, virtual meetings over Teams were almost impossible and everything was really slow. When it was really bad, I had to work from my mother-in-law's or go into the office. In our home life we couldn't stream movies and programmes would freeze or drop out completely. We could only do one task at a time so if I was trying to work no one else in the house could stream TV.
Why did you consider 4G as a solution?
I contacted all the broadband suppliers in our area but with other technology they could only match the 10mbps that we were getting. Through my research I found out about 5G but that didn't have the best strength in my area, so I decided to give 4G a chance. With 4G my speeds are reaching over 70mbps, a huge increase.
How has using 4G changed the way you use broadband/ work?
Overall, it has just given us the confidence that we can go online and we'll have a reliable connection. My wife and I can be flexible on the days we're working from home and we can both work at the same time without any interruption to the service.
One big perk of 4G has been that as it only needs a three-point plug and not a phone line point, we can use it anywhere in the UK. We often plug it in the shed at the bottom of the garden where normally the signal wouldn't stretch to, and have even taken it to our caravan.
What made you chose 4G over an alternative?
All of the research I did led to Fibre to the Premise (FTTP) technology and when I realised that wasn't available to my property, I found 4G. I like that you don't need a phone line so you're not paying for line rental as like a lot of households, we don't have a house phone. The cost is also really reasonable compared to alternatives; our package is around £25 a month.  I have to admit we were still sceptical, but we kept in mind the 14-day cancellation period. Thankfully we've not looked back.
How long did it take to set up? What was the process you went through from placing the order to being connected and

 was it simple?
The process was just as simple as ordering any other broadband package, we placed an order and the equipment was with us within a week. It took 10 minutes to set up, the SIM card just needed adjusting to the right size and putting in the router, and then there was an app you download on your phone to find the best place in the house for signal. Ours is only placed in a 'medium strength' location and we still get great speeds.
Have you come across any issues or barriers with using an alternative solution?
The only real issue is that we do have some black spots within the house where the signal strength is too weak for a stable connection. It hasn't caused us much of a problem though and if I wanted to, a booster could probably help with this. Also, it would have been great if we could have had a 5G connection.
What would you say to someone considering an alternative solution to fixed fibre broadband?
4G is an affordable, simple solution that's easy to set-up and move wherever you want. As long as you have a good 4G signal for the provider you go with it's worth it.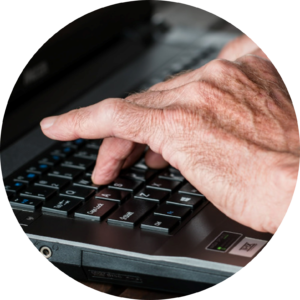 If you are considering alternative solutions for your broadband and would like to find out about 4G coverage in your area visit Ofcoms mobile availability checker.